Merging two important days marked for Children and World Diabetes, Orchids-The International School today celebrated the day in a unique manner by conducting a diabetes awareness program in their premises.
Over 30 million have been diagnosed with diabetes in India last year. And childhood diabetes is more common than you think. India has over one million juvenile diabetics and the ailment claims 12,000 lives each year and there's no way to figure out how many children die undiagnosed each year. This insightful program was organized to instill awareness about the growing malaise thus making the day educational and eventful for both the children and the parents. The children with the help of the faculty and parents prepared an informative presentation on the cause, symptoms, and precautionary measures of the same.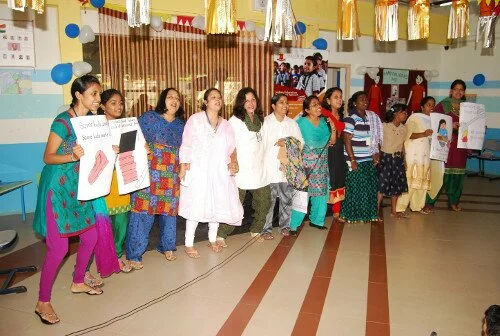 With an aim to make the day noteworthy, the skilled team of teachers at Orchids conducted a skit on "Child Labour". Kids were thrilled to watch their teachers performing for them. The event concluded with children participating in activities, such as singing, dancing, painting, drawing, quizz, storytelling, elocution, fancy dress, debate, speeches and so on. The winning students were rewarded generously.
The Parents encouraged the children for the event. All 33 students from grade five presented the program which was readily accepted and appreciated by the parents and other dignitaries attending the event.
Talking about the unique initiative by the students, Ms. Pushpa Prasad, Dean Academics said, "We are glad to be able to showcase an event that merges the sentiments of both days and make it an educational day for the children and parents together. Our endeavor is to nurture the minds of children so that they can think out of the box and put together unique ideas that matter to them. We look forward to encouraging and showcasing more such distinctive ideas in the coming months. "
Parents of Albin, Nikhil, Sanya and Abipsa from grade five added "The Diabetes awareness program arranged by the students was really very educative and an eye opener. We are aware of the disease but identifying and dealing with it can be tricky. It was special for me not only because my son/ daughter presented the same but also because it shows the new generation kids are so much aware & are also sensitizing us to the issue and remain healthy. Would also like to thanks Orchids teachers who helped and guided the students to put together such an amazing event for us"