Global Integration in today's context means more globalization, new co-operations, larger interaction between peoples and cultures, an even greater sharing of responsibilities and interest. Indus International School, Hyderabad and Think Global School jointly hosted "Symposium on Global Citizenship" highlighting the aspect of what is inter-dependency in the perspective of global citizenship at the Indus International School's Hyderabad campus.
The symposium began with a key note address by Lt Gen Arjun Ray, CEO, Indus Trust followed by a panel discussion with eminent speakers from media, international education, sociology, corporate sectors along with students, teachers, and parents involved with international curricula. In his address to students Gen Arjun Ray said my students are ambassadors of our country as our school is a convergence of students from across the world. It gives each of these students to strengthen their cultural and regional bond when they spent their time in school and outside school when they go on projects. We like to them to connect with society in real terms not just being in classroom and learning from books.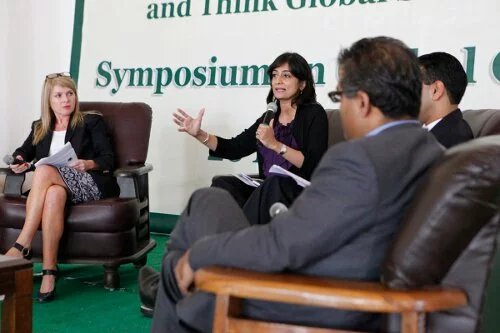 This panel debated "What is inter-dependency in the perspective of Global Citizenship?' moderated by Alun Cooper, Head of School, TGS and an educationist of international repute. After the panel discussion the break-out student groups mulled over on subjects like how does a global identity touch my life? Localism vs globalism and How does an international curriculum contribute to understanding of global identity?
To a question asked by Dhishna Kidambi how does an international school education contribute to eliminating culture clashes the panelists said we all already a global citizen and we are living in a world where every thing around us is from some part of the world or other. so as we become more inter-dependent in many ways the cultural clashes also will eventually be dealt with.
To a question asked by Sanjita Kapoor of Chirec grade 11 on what are the immediate goals a student must set for themselves. the panelists said that more that setting goals it is important to set a vision, goals are only means to realise the vision. it also doesn't matter where you are. Prajim grade 12 student of IISH expressed his views on how global identity touches his life as he gets an opportunity being in international school to interact with students from different parts of the world and get to understand their cultural values, the environment they come from.
Dr. Ashwin Joshi, a teacher at the Schulich School of Business, York University (Toronto, Canada, Salman and Anjum Babukhan, a management graduate from Chicago , Salman Babukhan leads the Babukhan enterprises, Oli Hancock an experienced educator, Oli is currently on leave as a full-time student working on her doctoral thesis from Lehigh University in the US and Hari Kumar, Hari Kumar is a principal in Deloitte LLP and is the managing principal for Deloitte U.S. India offices (USI) were other prominent speakers at the symposium who shared their views and thoughts about global citizenship and how it impacts each of our lives.
Each of the panelists that included experts from academia and the corporate world expressed that today the nations are interdependent in all ways and it is very important that each of us understand the culture and challenges within to become a truly global citizen.
In a study of the internationalization of five U.S. research universities that was conducted in the late 1990s 'Global Citizen' was defined as someone who (1) has the literacy, consciousness and critical understanding of how national and international issues intersect; (2) an awareness of their role in an interdependent world and how they could contribute to, shape and improve it; (3) a capacity and commitment, backed by research and experience, to solve problems as members of a global society; (4) and a humility about one's own biases.
While sharing their experiences and highlighting the benefit of being a global citizen the students asserted there are plenty of collaborative-sharing moments when studying in and different parts of the world, it is not just entertaining but can also be thoughtful and grounded, such as solving problems together and interchanging knowledge with local students. Learning from others—foreign professors, students and even local community leaders and economically challenged students—is an enabling and humbling experience, and one that is difficult to have without physically being there.
Students from different international schools who participated in the symposium included Chirec public school, Think global school, Indus International school, Glendale academy, Sreenidhi international school and Agha khan academy.
Students later formed a group to discuss and prepare a resolution on topics like how global identity touches my life. they expressed that being outside the classroom; travelling and studying abroad offered them opportunities for notion to be questioned and assumptions to be challenged, especially through interactions with those who live locally. It also gave them an opportunity to view the world in a true to life perspective.
The students are expected to report their findings and a set of recommendations will be created for all the attending schools to use. One would argue that we are all struggling to find ways to reference global citizenship in our daily context and we could all benefit from a collaborative opportunity to understand a little more about what global citizenship actually means as well as how we help to prepare our young people for active roles within a changing world.