Billabong High International School, Bhopal adorned itself with the vibrant hues and stately shades of India on the occasion of the Culmination of the Grade 4 Social Science Unit 'INDIA'.
The audience, comprising of doting parents and others, experienced poignant moments as they witnessed the enactment of significant historical moments of India's freedom saga. One by one the revolutionaries such as the defiant Rani of Jhansi, Bhagat Singh, Chandrashekhar Azad, the dynamic rebel Netaji Subhash Chandra Bose and last but not the least, the Mahatma Gandhi took centre stage. The historical moment of India's Independence Eve was relived through the enactment of the iconic speech 'Tryst with destiny' that was delivered by Pt. Jawaharlal Nehru to the Constituent assembly of Free India 66 years ago.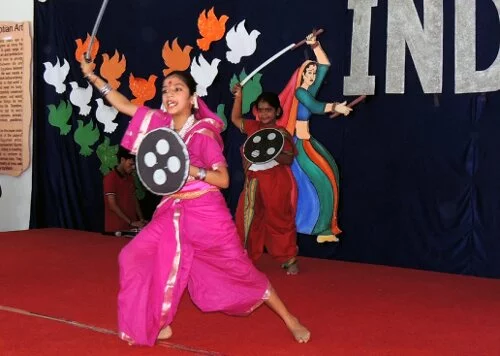 The melodious entreaty: MILE SUR MERA TUMHARA… re-affirmed the bond to present-day India. Principal Ms. Sujata Lakhani chose to address the parents in a novel manner by lending her voice to the young artists on stage as they sang this patriotic number soulfully. She appealed to the audience to join hands in unity and speak the language of love and acceptance underlining the school's commitment to nurture the children of today who are going to be the torch-bearers of our tomorrow.
Traditional dances of Gujarat, Punjab, Assam and a sumptous spread of traditional cuisine from the four corners of India completed the milieu. The event depicted the true essence of being Indian and surely instilled in many a young hearts a sense of pride and glory for the motherland.