'The Articulate Arena', an Inter-School Debate and Creative Writing Competition for students of grades 7-12 was hosted by Billabong High International School Bhopal at their campus. The event drew participants from leading institutions of the city.
The topics for both debate and creative writing were announced just an hour prior to the commencement of the event.
Category A consisting of Grade XI and XII students spoke on 'Nuclear energy for peaceful purposes is a threat to the environment.' Category B comprising Grade IX and X pupils expressed their views on 'Reality shows do more harm than good.' Category C – Grade VII and VIII battled it out on whether 'Mobiles should be allowed in education institutions.' This young lot took up the gauntlet and were the soul of the event.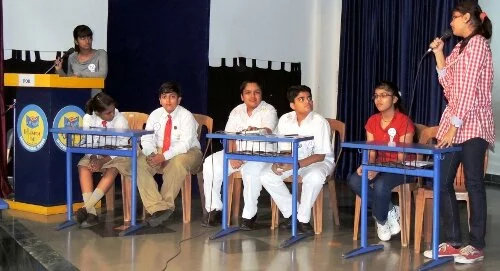 The Creative Writing competition saw the young brains expressing their creativity on the following topics – 'Indian democracy is famous for criminalisation of politics', 'You have decided to give several hours each month to improve your community. What is the one thing you will do and why?', 'Trees, clean water, animals – choose one resource and explain why it needs to be saved.'
There was an esteemed panel of judges present – Dr. Gaurav Raj Bhagat – Assistant Professor at Barkatullah University, Mrs. Sabina Jamshed – HOD Humanities at Eastern Public School and Mr. Mahendra Joshi – Human Resource Training Manager at SIRT.
The debaters spoke with great confidence and put forth brilliant arguments defending their stands. Sagar Public School emerged victorious in Category A; Delhi Public School bagged the Best Team trophy in Category B.
Category C saw the host school Billabong High walk away with the Best Team trophy. Aahna Rajan of Billabong High was adjudged the Best Speaker for the motion and Yashweer Kharb was declared Best Speaker against the motion.
Seven schools took part in this unconventional competition, where students learn the importance and necessity on thinking on their feet.