The biggest Archdiocesan Catholic School Teachers meet was recently held at St. Joseph's Co-ed school, Arera colony, Bhopal, where more than 2500 teachers, 51 schools and 4 colleges participated. It was a massive gathering of teachers from entire Bhopal, Harda, Hoshangabad and Sehore districts.
The teachers meet celebration was inaugurated by Fr Johnney P.J, Spokesperson, Bhopal Archdiocese, who welcomed the Chief guest Dr. Leo Cornelio, Archbishop, Madhya Pradesh. This teacher's meet witnessed more than 2500 teachers who came from 51 different schools and 4 colleges from four districts of Madhya Pradesh and joined hands together for the grand celebration.
Most Rev. Dr. Leo Cornelio, Archbishop, Madhya Pradesh, said "I take immense pleasure to witness this historic teachers meet which we are celebrating today in a grand way. It gives me so much content to see more than 2500 teachers under one roof, I convey my very best wishes to them and pray for their happiness and good health."
Teachers from 51 schools and 4 colleges included St. Joseph co-ed school, St. Xavier's Sr. Sec. School, St. Patrick's School, St. Mary's Co-ed School, Kripa Sagar High School, St. Jude's School, Lourd Mata Convent School, St. John's Co-ed School, Campion Hr. Sec. School, Carmel Convent Sr. Sec. School, Christ College, Bhopal School Of Social Sciences, Marbaselios College of Nursing, St. Thomas campus, St. Joseph College of Nursing and many more were present at the celebration.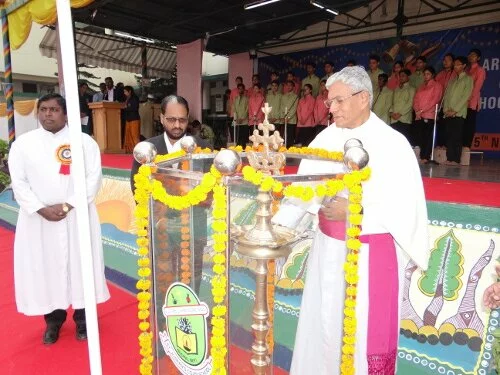 Fr. Johnney P.J, Spokesperson, Bhopal Archidiocese, said "It is a matter of great pleasure for us that Dr. Leo Cornelio could join us for this massive celebration, I welcome him and our team of teachers who have come from so many different school and colleges for this occasion. It is indeed a delight that we all are present today and we are celebrating teacher's meet, a day which is cherished by each and every one of us."
The celebration was a great hit and saw groups of teachers perform various group and solo dances, skits and drama. It was a grand day cherished by everyone and a memory for a life time.